Lately, I've been craving a uniform. Mostly because figuring out what to wear every morning has gotten slightly out of control. I've tried to put outfits together the night before and yenno, it's just not for me. So I thought a uniform would work. I don't mean wearing the exact same thing every day (shout out to middle school!) but a variation of the same pieces. My "go-to outfit" so to speak. For those days (er, every workday morning) when I can't get my shit together.
So how does a uniform come about? I figure you take pieces that make you feel really good and that you believe look really good on you and put 'em together. Can't be hard, right? It's all still a work in progress for me. So far this is what I've come up with.
Bottoms
The first piece: a cropped, tapered trouser/pant. Whether its a skinny jean, or linen trousers… high rise and cropped seems to be the most flattering for my shape. Easy-peasy.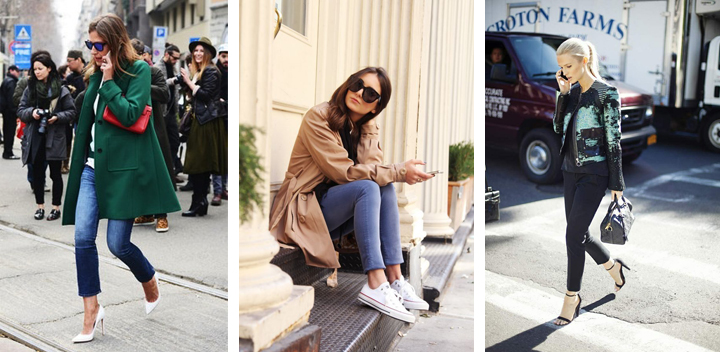 Tops
Tops are on the easier side. Long tees, tunics and dresses (yes, dresses!). I'm a tall broad at 5'11" – which means that in order to get tops that are long enough for me I need to dig. I'm finally understanding this. You know how when you see that things work a certain way for most people you expect them to work that way for you, too? It's a hard realization when you finally admit it doesn't work that way. My body type is not common. So I can't think and shop like a commoner (no offense commoners of the world!). Looking back I've always found solutions in working with what I had. Using dresses as tops has been happening on my body since 1996. It's how I roll. Flowier mini dresses are usually where I land. They look like big tees but are fitted in such a way that it doesn't look like you're wearing grandma's dress. Win, win. This is where I like to inject some fun and go with fast fashion. Cheapo finds from Goodwill, Target and even Forever21 will do! Another reason long tops are my jam? The half-tuck. I'm a BIG fan of the half-tuck. I'd be surprised if someone followed me for a month and didn't find that I half-tuck every single day. #halftuck4ever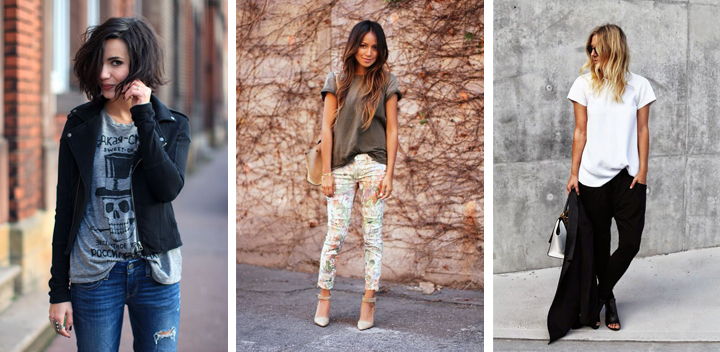 You know what ruins half-tucks more than anything? A not-long-enough top. Your half-tuck should overflow a bit and not be holding on to the inside of your pants for dear life.
Outerwear
– Strong shouldered moto jackets that hit just between my waist and my hip.
– Khaki and Olive utility jackets that hit mid-thigh, the wider the sleeve the better.
– Tailored coats that hit between the mid-thigh and just above the knee.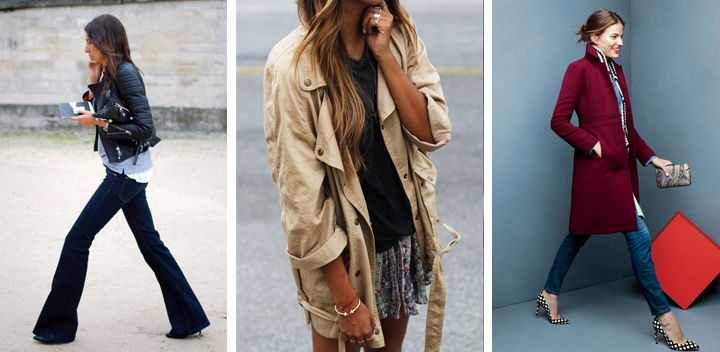 I think all of those options can carry me through any season LA feels in the mood to provide. Coincidentally, the three outfits I used previously for cropped pant examples happen to use these three outerwear examples too! Totally accidental, I'm awesome but not that awesome. When it works, it works yo!
So there you have it, my uniform. I'm wearing it today. Took a pair of scissors to a new pair of Asos skinnies and cropped those suckers real good. Yah, real good. What about shoes, you say? Well, I love shoes too much to limit myself there. As for other accessories, my work handbag never changes. I have specific jewelry depending on the mood of my outfit but you can bet it'll make a statement.
Now, what the hell am I supposed to do with my hair?