Update: I've made modifications to my eating habits and am using NTC as a proper warmup for running. 15 minutes of almost any workout from the app and I can last a lot longer on the treadmill. Small victories, y'all!
So it's only February and I'm trying to party outside? Well, I do live in Southern California. Today's high was a sunny 84°. Nights are still colder than I'd prefer but beggars can most certainly not be choosers. So I'm thinking ahead. Last year we made the tiniest of progress on our yard. I'd like to use some vacant weekends coming up to remedy that situation.
I finally bought a miter saw and will be soon adding a Kreg Jig into my small, but growing, arsenal of power tools and accessories. One thing I know for sure? I have zero brand loyalty when it comes to things you plug in. Just give me a good deal and have good reviews.
Okay, so here's the closest inspiration picture I could find for what I see in my head: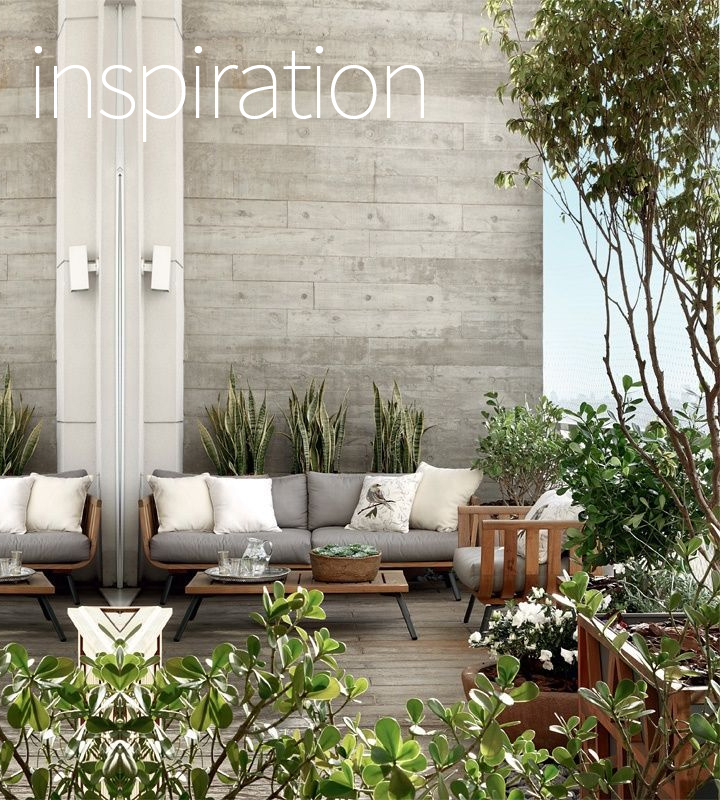 I had a hard time finding styled photos of wooden outdoor sofa/sectionals on wooden decks. I started to worry that it was because it just didn't look good. Until I found this shot. The basics are what I'm after here: Aged wood deck + warm wood furniture + gray cushions. Maybe a little less planty? I do want some unusual plants here and there to add interest but the plant situation in this picture is a bit much, in my humble opinion.
Here's where I am in terms of possible color schemes:



I'm struggling with what I'd like the accent color to be. I do know I'd like to either have one big piece in this color or a few small accessories. I'll keep mulling that over until we get to the decorating & accessorizing part of this project (I cannot wait!).
Okay so here's how I plan on making this happen. Plan being the operative word.
Phase 1: Finish planting groundcover and decide on how to reset stone pavers (three-day weekend!).
Phase 2: Buy lumber & weatherproofing stain for furniture building.
Phase 3: Find an amazing deal on outdoor cushions or get to sewing some ala DIY.
Phase 4: Develop a storage solution to prevent major cleanup before social gatherings.
Phase 5: Decorate!