Food
[ Food ] Guest Editorial: The Great Carne Asada Fries Hunt!
For me, if you give me massive amounts of edible food for a good price, I'll like it. Which makes me a cheapie. The only few exceptions to the rule thus far are: Corean food, Pizza, and more recently, Carne Asada Fries. My first glorious experience with Carne Asada Fries was in San Diego visiting a buddy's brother. Recently I've got it through my head that I'm willing to head to an early grave to find the perfect Carne Asada Fries (or variation thereof) in Los Angeles. I'm taking a page out of my buddy Dave's book, as he's on the hunt for the best burger in LA.
First up: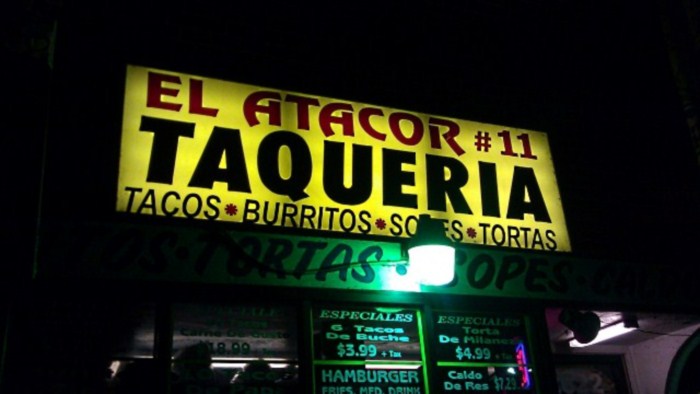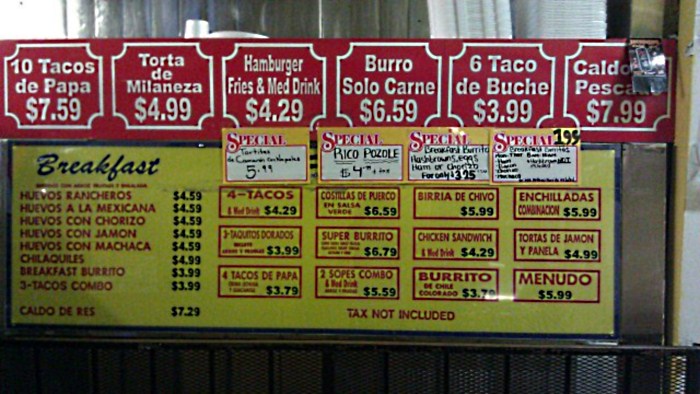 I have no idea wtf happened to numbers 1 through 10. I chose this one because it's right down the street from where we live. I Yelped some keywords and it was fourth on the list, so the lady and I moseyed on over last Friday. The Asada Fries were a "hidden" item so I assumed they had to be delicious since they're super secret. El Atacor is famous for their potato tacos so I ordered one and found out why. The tacos are stuffed with a Mexican version of home fries, lightly flavored and perfectly cooked. Then the tacos are thrown in for a flash fry, and come out nice and crispy. A dollop of avocado salsa (NOT guacamole) later, and I had the best damn potato taco ever. Plus, you can get 10 for 7 bucks and change. The cheapie in me grew a tent in my pants. In any case, I took the fries home and began my conquest.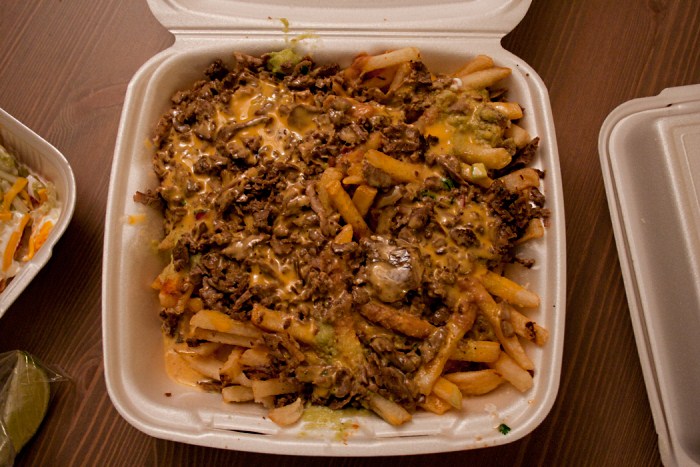 Toppings: This place does NOT skimp on toppings. The papas are covered with tons of seasoned Carne Asada, pinto beans, nacho cheese, salsa, avocado sauce, onions, cilantro, AND a bit of guacamole. It's simply un-American to only have french fries with cheese and meat on it.
Quantity: The box felt like it literally weighed five pounds, so I'm definitely winning in that department. Even if I had an entire day to finish these fries, I think I'd still have a tough time. I could feed a family of six (or just two of my fatass friends) with what was in the box. For around 7 bucks, it was potentially a steal for how much you get. The poor plastic bag holding the box was stretched to hell by the time we got inside. Yes, the portions are that hefty.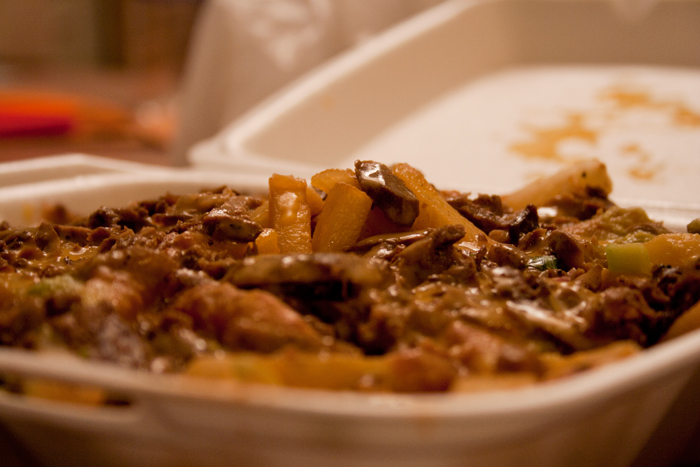 Consistency: The ride back home wasn't much longer than 10 minutes, but when I opened the box, I could tell the fries were going to be soggy. If you take a look at the lower left of the box, you'll see a pool of cheese. That's right, a pool. The salsa, avocado sauce, and cheese made everything in between and on the bottom of the box really mushy. El Atacor used frozen skinny fries which I'm not against, but the lack of crispiness equaled no crunch when I had my first few bites.
Flavor: Although I thought the nacho cheese was a nice touch, the fries fell way flat of expectations. The nacho cheese Atacor used was not thick at all. It was actually pretty watery. The mishmash of toppings used made for a soupy meal overall. The salsa was flavorful, but beans tasted like they were straight out of the can without being recooked with serrano chiles. I did enjoy the meat as it was juicy and plentiful, but that took a back seat to how disappointing the cheese was. The fries also weren't crispy enough to my liking. I don't mind if you use frozen fries, but if you do, you better deep fry the hell out of them. Atacor didn't do that. That hurts my heart.
Overall: C. I'm definitely going back, but not for the fries. The potato tacos stole my heart and I'll definitely be headed back during a massive hangover. Nothing cures hangovers like awesome Mexican food.