Our backyard (and frontyard) is in a state of disarray. Remember this? 3 years ago? Yea, well it's worse. Nothing is overgrown, its just dead now. Horribly dead. Those pictures actually make the yard look gorgeous looking back at them. We tell ourselves we don't water in order to keep our bills low, but I'm not sure how true that is anymore.
In light of recent events, I've felt the need to be around my family a lot. Being around them is very very comforting, like being wrapped in a warm blanket. My family just so happens to be enormous. My mom was the youngest of 7 kids and let's just say she's the only one that decided to stop at one child. When they come over to our place, seating solutions are always an issue. They became embarrassingly obvious last week when they came over twice and stayed into the wee hours of the morning. So I'm on a mission to fix a few issues that came up with these gatherings. Learn from your history or you're bound to repeat it, or something like that.

Problem No. 1: Not enough lighting
We have string lights that I purchased from Target for $9 that do an amazing job of lighting up the overhang on our deck. The problem is that the overhang only covers about half of our deck. So when it gets dark, the rest of the deck is too dark to enjoy. Here are some possible solutions for that.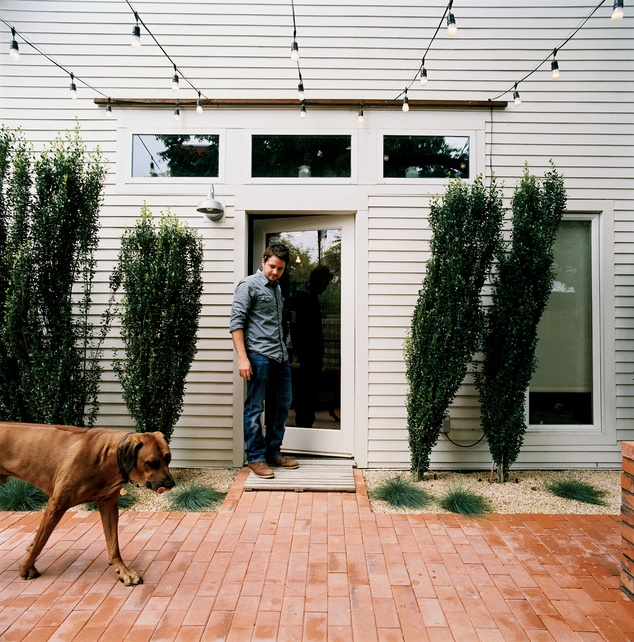 Possible solution A: More string lights! The biggest issue with more string lights is where to hang them off of. But I've found this great tutorial that might just do the trick. Thank you DIY gods!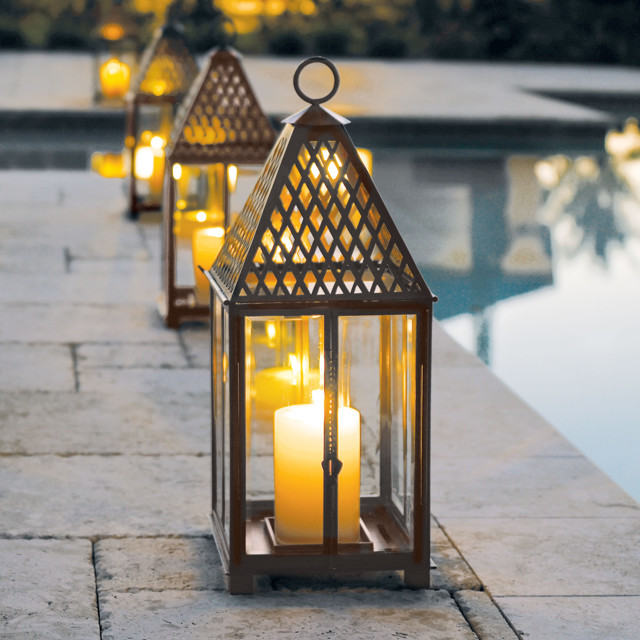 Possible solution B: Fire. In the form of lanterns, firepit, tiki torches or chimney. The only problem with fire is that two things are almost always a given when my family gets together. Kids will be running around & alcohol will be consumed (not by the kids). Actually that's not the only problem. I'm also deathly afraid of burning to death. I know, I know… isn't everyone? Well, yes but my fear borders on irrational. I can't even tell you how many times Yong & I have gone out to dinner or a movie and I half expected the house to be burned down to the ground when we returned. With that being said, the idea of a firepit/chimney is exciting to me. It would provide mood lighting + warmth in the colder months. I'd just have to drown it with water every time we leave the house.
Problem No. 2: Not enough seating
My ultimate dream with our yard is to level out the hill toward the rear. Add concrete slabs with built-in wooden benches and drought-safe California plants everywhere. Sleek modern seating everywhere, including sectionals (!!) and lighting built into the whole place. Seeing as how that's not going to happen for while, I need to find a "for now" solution that A. won't break the bank & B. could either work for our future plans or is so cheap/free that I won't mind letting it go when that times comes. Now, when is the last time you checked prices on outdoor sectionals? Go ahead, I'll wait. —- Mmhmm. Now, unless I find one on the side of the road I may have to give up on that as "for now" solution. Not giving up hope, just trying to be realistic. Realism, not my strong suit.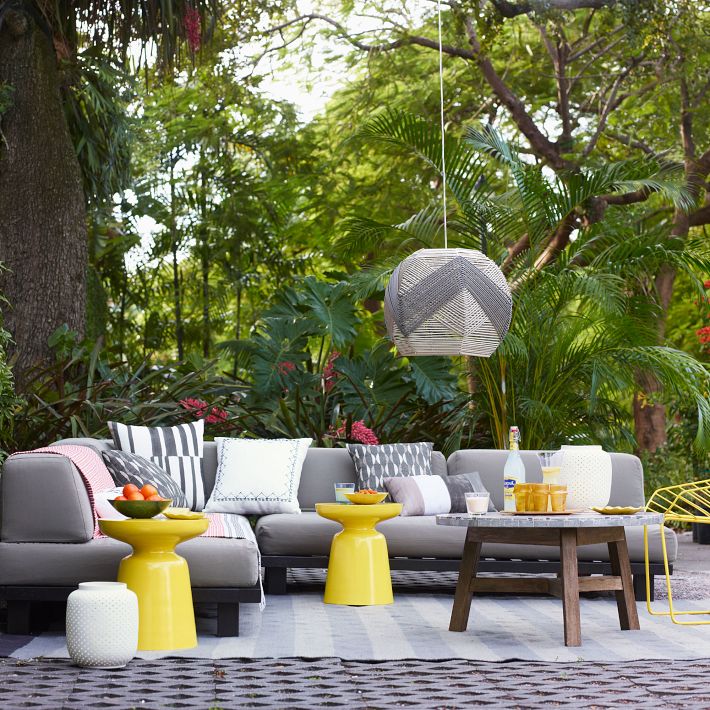 Ahem, the dream. Sorta.
Possible Solution A: Buy a conversation set (love seat, two chairs, coffee table). I'd love to show you a few examples of what I was thinking if we went in this direction but I honestly can't find anything. Maybe I'm so bitter about not being to get "the dream" now that I can't see the potential in anything, or maybe they just all suck. Its hard to say.
Possible Solution B: Build it. Yes, as in, buy wood, cut it, hammer shit together. Not sure if you're familiar with Ana White, but she's amazing. And she has a tutorial for building a platform sectional for *ahem* $100 (minus the cushions). To be honest, this is what I'm thinking will work best for us. I'll have to add on the expense of buying a Kreg Jig and hopefully get away with using a jigsaw instead of a circular saw, but we'll see.
The rest of our issues are easy fixes and/or nice-to-haves.
More trash cans: I'm thinking the Oscar the Grouch trash can variety will work just fine.
More end/side tables: Maybe pretty garden stools all over the place?
Somewhere for our doggies to hang out during parties. We love having them run around and get petted by everyone but we don't allow them to eat human food very often. Its tough having to explain why over and over again. It's also heart-wrenching to have a plate of leftovers and a cute ass animal being ever so patient waiting for you acknowledge them and maybe throw him a bone.
Sun coverage. We get beautiful views of sunsets every night, but sometimes.. the sun in your eye for 2 hours gets old. Umbrella? Triangle fabric overhang thingy? Curtains? Not sure.
Rugs? I'd like to up the cozy let's-hang-out-here-for-ours-and-never-want-to-leave factor. The chimney/fire pit I mentioned before would help, but I think a nice outdoor rug would also work out nicely.
We still haven't mastered being able to feed everyone in a timely manner or not run out of napkins/cups/utensils. We buy enough, we swear we do. We're just constantly underestimating how often people throw away their plates/forks after every meal, even if they plan to go back for more in 10 minutes. No one wants to sit there and hold an empty plate. No one. We're willing to learn, just hope everyone is willing to come back so we can prove it.